With the last week of term finally upon us, I have collected together some of my favourite maths Christmas resources and activities from the TES Maths website. These are all freely available to download by registering on the website.
I hope you enjoy them, and you make it to the end of term in one piece!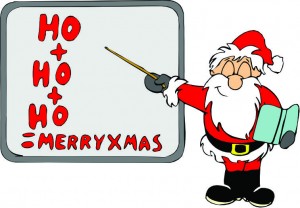 1. The Maths Christmas Activities booklet is crammed full of festive fun
2. The "Who killed Santa?" mystery is a TES festive classic!
3. GCSE Maths Christmas puzzles will keep your students thinking
4. Try a bit of Christmas Countdown to keep the brain ticking over
5. "Who Kidnapped Santa?" – Can you solve this maths mystery?
6. There are bundles of quality in these maths Christmas worksheets
7. Christmas and Tarsia – the perfect combination! 🙂
8. A Maths themed Christmas Quiz lesson
9. I have put together 11 Just for Fun Quiz rounds, including classics such as Xmas Song Lyrics, on my Diagnostic Questions website here
10. The wonderful Colleen Young has her own 2014 Maths Christmas Collection available here
Finally, here is my choice for the TES Maths Christmas Activity of the Year 2014:
You can download this lovely resource here