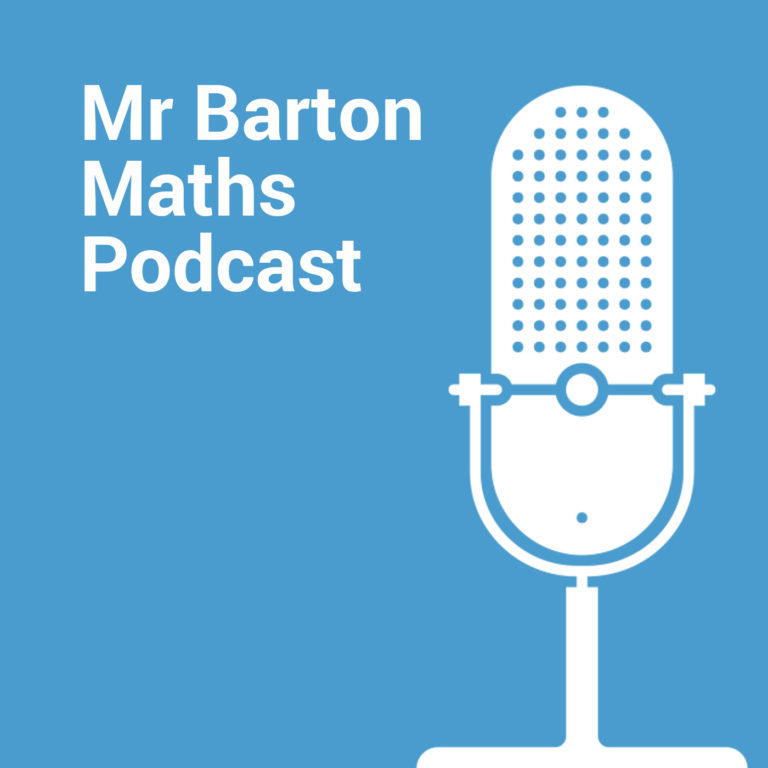 Mr Barton Maths Podcast
Craig Barton interviews guests from the wonderful world of education about their approaches to teaching, educational research and more. All show notes, resources and videos here: https://www.mrbartonmaths.com/blog/
#070 Jo Morgan: 100th Maths Gems Special
In this special podcast to celebrate Jo's 100th Maths Gem blog post, we end up talking about so much more than resources – although there is plenty of chat about that, so don't you worry. We also cover the role of fun in lessons, practical use of cognitive science in teaching, SSDD problems, what Jo has learned this year, and plenty more besides. Oh, and there is even a quiz!
For more information about today's guest, plus links to the websites, resources and ideas they mention, please visit the show notes page: http://www.mrbartonmaths.com/blog/jo-morgan-100th-maths-gems-special/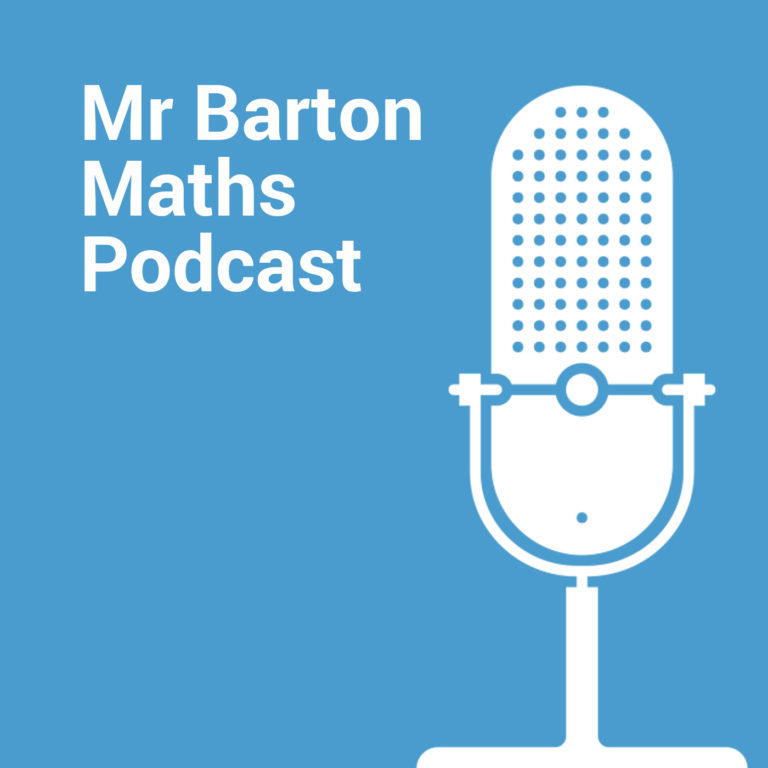 ***
This episode of the Mr Barton Maths Podcast is proudly sponsored by AQA, and their Collaboration project. Check out their website here: www.aqa.org.uk/subjects/mathematics
If you wish to reach 1000s of teachers and educators to let them know about your product, service or event, then drop me an email at [email protected] to discuss the sponsorship packages available.
***
On this episode of the Mr Barton Maths Podcast, I spoke to Jo Morgan.
Jo is a legend of the maths teaching community. Her website, resourceaholic, is the go-to site for many teachers to find hand-picked, curated, top-quality resources. Her Maths Germs series in particular have led to me personally discovering some of my favourite maths websites, activities, quirky ideas, and more besides. But that is not all that is on Jo's blog. She also writes topic in depth series, which I am a huge fan of, where she takes a topic, such as indices, and delves deep into the history, misconceptions, representations, resources, and effective ways of teaching that concept to children. And of course, Jo is perhaps best known for her frequent appearances on this very podcast as my co host for several Conference Takeaways episodes. Indeed – although she hasn't actually said this – it is probably her life's proudest achievement.
Anyway, I wanted to do this episode to celebrate the release of Jo's 100 Maths Gem, and thought this would be a relatively quick chat about a few nice resources. How wrong I was!
So, in a wide ranging, conversation, Jo and I discussed the following things, and plenty more besides:
What has Jo learned from her new job this year?
What criteria does a resource need to fulfill to become a Gem?
How does Jo use the Gems herself when planning a lesson?
Jo then takes us through 5 "Hidden Gems" – brilliant resources and ideas that may not be familiar to listeners
When discussing some of Twitter's favourite Gems, I tell Jo about a new way I have been using my SSDD problems
I then spring a surprise quiz on Jo – you can hear how delighted she is – and you can play along at home too
Then the big one – Jo picks out her 5 favourite Maths Gems. Who has made the list???
Jo offers up some really useful advice for budding resource writers, before finally revealing in a world exclusive an exciting project she is working on.
Along the way we fall out over our views on displays, and dig into the role of happiness and fun in lessons, and how that fits in to what cognitive science tells us about how students learn.
I love talking to Jo, and I am dead happy with how this conversation turned out. As I say, a chat about resources turned into one takeaway-filled episode that covered so much interesting ground. It gave me loads to think about.
Now, just before we get cracking, a few plugs. If you enjoy these podcasts, please consider giving them a review on whatever podcast platform you use to listen to them, and also consider choosing an episode to recommend to a friend – these things really help more people discover the podcast. And secondly, related to what Jo and I talk about, I do a weekly feature for TES that some of you may not be aware of. It is called Resource of the Week, and each week a choose a free resource that grabs my attention, writer a short post about it, and also record a brief video talking about the resource and how I might use it in the classroom. You can find year's worth of these on the TES Maths Blog, and there will be a link in the show notes. It's no Maths Gems, of course, but hopefully some people will find it useful.
There will be no Takeaway at the end of today's show, as I am actually off to an antenatal class to try and in someway appeared prepared for the birth of my first child in January. I tell you what, if you thought I was out of depth talking to the Bjorks, Dylan Wiliam or Helen Williams, you should see me in that class.
Anyway, I just wanted to take this opportunity to thank everyone of my guests and my listeners. 2018 has been my favourite ever year for many reasons, of which the podcast is certainly one. It is bigger than I could ever have imagined, and that is purely because amazing guests keep saying yes, and people keep tuning in. So thank you. And I have some absolute crackers lined up for next year.
On Twitter Jo is: @mathsjem
Jo's blog is: resourceaholic.com
Hidden Gems
1. From Gems 54: Poster Problems and Algebra by Example https://math.serpmedia.org/gateway/
2. From Gems 52 and Gems 56: Colin Foster's Instant Maths. http://www.foster77.co.uk/instantmathsideas.htm.
3. Gems 9 – Stuck Post-its http://www.resourceaholic.com/2014/10/gems9.html
4. Gems 13 – Number Experts. http://www.resourceaholic.com/2014/11/gems13.html
5. Gems 18 – Revision notes http://www.resourceaholic.com/2014/12/5-maths-gems-18.html

Favourite Gems
1. MathsPad. www.mathspad.co.uk
2. Maths4Everyone maths4everyone.com.
3. Is This Prime? isthisprime.com/game.
4. Gems 46 – SIC and COS http://www.resourceaholic.com/2015/03/gems27.html
5. My Favourite Liar. http://www.overcomingbias.com/2008/02/my-favorite-lia.html
My Resource of the Week feature for TES can be found at: www.tes.com/teaching-resources/blog/maths
***
My usual plugs:
Thanks so much for listening, and I really hope you enjoy the show!
Craig Barton