On this episode of the Mr Barton Maths Podcast I spoke to Will Emeny.
Will is Head of Maths at Wyvern College, the author of the Great Maths Teaching Ideas Blog, as well a couple of excellent educational books, and the creator of Numeracy Ninjas
In an epic 2 hour interview, we covered loads of things, including:

How does Will plan lessons? – we dive very deep into this!
How do Will and his department try to create renewable lessons?
Can Will describe a lesson that went badly, and what he learned from it?
How is Will preparing his Year 11 students for their GCSEs, and what are his plan for students embarking upon the new GCSE specification?
What has Will learned in 3 years of being a Head of Department?
Then we delve into two fascinating areas:
Firstly, what did Will discover during his amazing analysis into Prior Learning Dependency Flow, and what are the implications for the teaching of mathematics?
Secondly why does the concept of Memory fascinate Will so much, why is the distinction between Learning and Performance so important, and again what are the implications for teaching and assessment?
What was the inspiration behind Numeracy Ninjas, and what are the future plans for the website?
What does Will wish he had known when he first started teaching?
It's a longy, but I promise it's a goody!
Links to things discussed in the show:
Diagnostic Questions
I have put together a description of five simple strategies on Diagnostic Questions that we are using with our Year 11 students in preparation for their GCSEs. There include daily questions, full GCSE papers, and a tool for independent revision. These are all dead easy to set up, are having a massive impact on our students, and best of all, they are completely free. Have a read of my blog post to find out more
Links to the research that Will mentions, as well as all the research cited by my previouis guests, can be found here
Prior Learning Dependency Flow
Prior Learning Dependency Flow – blog post 
You've never seen the GCSE Maths Curriculum look like this before – blog post  
Memory Flow
Forgetting is necessary for learning, desirable difficulties and the need to dissociate learning and performance – blog post  
Numeracy Ninjas
http://www.numeracyninjas.org/ 
Will Emeny's Big 3 (or Big 4 in this case!)
My post explaining the important ideas in memory research, desirable difficulties etc
Evidence into practice blog by Nick Rose
Michaela blogs!
Joe Kirby https://pragmaticreform.wordpress.com
Naveen Rizvi http://conceptionofthegood.co.uk
Bodil Isaksen http://blog.bodil.co.uk
Dani Quinn https://missquinnmaths.wordpress.com
Hegarty Maths! www.hegartymaths.com
Link to Podcast Puzzle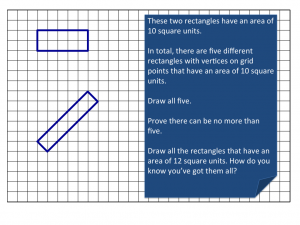 If you cannot see the image, visit here
My usual plugs:
Thanks so much for listening, and I really hope you enjoy the show!
Craig Barton