As you may know, I have created two free GCSE quizzes based on the Edexcel June 2014 Higher Tier maths papers. The idea was that these would test the same skills as the original paper copies, but with different questions. Crucially, as I broke each question down into several questions, they would allow you and your students to pin-point exactly where you are students mistakes and misconceptions lie.
Hopefully this will be far more useful than your usual Question Level Analysis. A QLA may tell you that a student cannot do something like simplifying algebraic fractions. The DQ GCSE Maths Quiz will tell you exactly where in the process they go wrong.
Paper 1 is available by clicking here
Paper 2 is available by clicking here
And now I am pleased to say I have also created two brand new GCSE papers, which are for sale for 30p per student per paper.
As well as allowing you to identify where your students are making mistakes, and allowing your students to learn from each other when reviewing their answers and explanations, these quizzes have the added feature that you can download an informative (and very pretty) class report that gives you a clear, visual idea of the problem areas: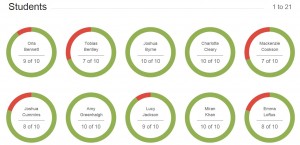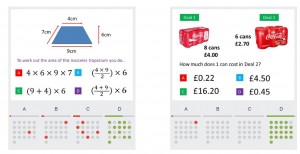 Paper 1 is available by clicking here
Paper 2 is available by clicking here
And you can preview the first 5 questions from each paper below